In 2013 the children's charity Barnado's entered into a contract with the Youth Justice Board  to provide independent advocacy for children at the Medway Secure Training Centre in which the charity agreed not to refer any child protection concerns arising in the setting to the local authority (Kent).  What does this tell us about the charity's commitment to vulnerable children and just how safe are children it advocates for and protects today?
Barnardo's looks conflicted between protecting children and its cherished relationship with Government and the public sector. Agreeing a contract that obliges it to not report child protection concerns to the Local Authority hits rock bottom. But having reached it, Barnardo's breaks out the Kango hammer and starts digging again. 
It did so by the rejecting the introduction of Mandatory Reporting of known and suspected abuse by Regulated Activities (those working in education, healthcare, faith, sport and similar) when it was a delegate at the Mandatory Reporting Seminar held by the Independent Inquiry into Child Sexual Abuse (IICSA) on 27th September 2018? In doing so it ignored the empirical  research which demonstrates MR in institutional settings places double the number of children into safety who would otherwise be left to an unknown fate. We comment on the charity's contribution to the seminar later in this posting.
One need look no further than Barnardo's amoral contractual commitment with the Youth Justice Board to appreciate just how ineffective the safeguarding framework is for Regulated Activities in England and Wales. Barnardo's signed its commitment to ignore 'statutory guidance' which the Department for Education suggests works. It did this without breaking the law because reporting known or suspected abuse to the Local Authority or police,  whilst it is expected of Regulated Activities, remains entirely discretionary. Let's not forget Barnardo's describes itself as 'a leading children's charity.' Had Mandatory Reporting existed, the Youth Justice Board could not have introduced this codicil to the contract or else it would have incited Barnardo's to break the law. But what motivated the Youth Justice Board to introduce the clause? We are left to speculate that it was to conceal potentially bad news from the public and perhaps the Ministry of Justice. The quango even receives funding from the Department for Education which is responsible for the dysfunctional safeguarding framework. In March 2018 the DfE reaffirmed the safeguarding dilute position in Paragraph 1., of its response to the – Reporting and Acting on Child Abuse and Neglect consultation :
(Our emboldening to reveal the discretionary nature of the suggested referral.)
Here's The Guardian article of 21st January 2019 which coincided with the release of the Serious Case Review into the failures at Medway STC, a children's prison formerly managed by G4S.
Barnardo's was the 'Independent Advocate' for children at Medway. Let that sink in. There was nowhere else for children to turn and unknown to those children, Barnardo's their independent advocate, had contractually committed itself to report no child protection concerns to the local authority.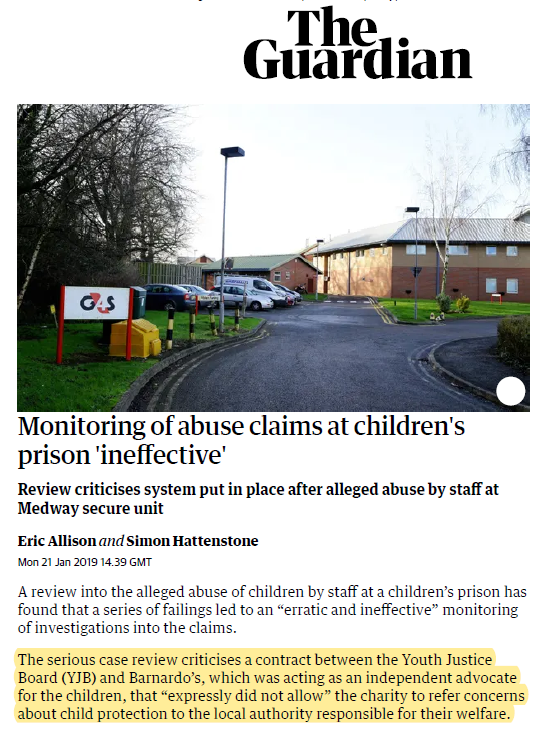 Consider this also.
Key remarks made by Mr Khan during this interview :
"It's unacceptable if the agencies that were involved (police, social services, it could be other agencies, it could be the schools that children studied at) if they were aware and saw the signals and did nothing about it, that is not acceptable."
"Child protection is everyone's responsibility"
"No one should ever be afraid of any political correctness or any other considerations to speak up on behalf of vulnerable children irrespective of their race, colour, or creed of the perpetrators. If that's what happened, that is not acceptable."
That is all pretty clear, so why did Barnardo's sign the onerous YJB contract which is contrary to safeguarding 'guidance?' The deal was for seventeen hours a week at Medway; it's hardly a revenue stream that gripped the attention of the board of trustees at Barnardo's. So it certainly wasn't the money. That leaves its cherished public sector / government interest mentioned earlier. Ockham's razor.
Consider this backdrop which was unknown at the time of the IICSA Mandatory Reporting seminar to which Barnardo's was a delegate. Mandate Now was also invited and  we made this submission  in advance. Perhaps Barnardo's should have considered providing a copy of  its submission to the public consultation 'Reporting and Acting on Child Abuse and Neglect' so delegates could understand precisely where it stood on this important topic. But sadly, it did not.
Ms.Cherry, who is Assistant Director of Policy and Public Affairs at Barnardo's presented for the charity.
Extracts from Ms Cherry's short statement (Pages 34-36 inclusive) included:
We completely agree with concealment of abuse and a duty on professionals to act around that. ( Ms Cherry means Barnardo's supports a proposal in the consultation that concealment of abuse should be sanctioned). If they have deliberately concealed it, there should be sanctions for those professionals… 
…but our concern is around the child and barriers to reporting and how difficult it is for a child to report…. 
……ensuring that the culture, the training and the support for staff to ensure that when a child is — genuinely comes to that point to make a disclosure, that they are heard, they are listened and they are believed. 
From talking to children and young people, their concern is always the fears of the next steps, and that things have to go at the child's pace. If children were to honestly believe the moment that they said (sic), immediately they would be whisked away from ………
Observations about the contribution :
Clearly the 'concealment' argument proposed within the Home Office / Department for Education 'duty to act' proposal is not understood by Barnardo's.  The idea was dropped by the Home Office but Barnardo's continues its support for it.  It is however, nothing short of nonsense designed to mislead those of a non enquiring disposition. It would not withstand scrutiny during the passage of a Parliamentary Bill, that is in the unlikely event it would ever appear in a Bill as our review of 'Duty to Act' made clear (see paragraph 4 which provides a further link where we unpick the Government's proposal). The Police Superintendents Association agreed with us  on this point as we discovered through an FoI decision made in our favour by the Information Commissioner's Office which required the Home Office to provide us with all the submissions to the consultation.  Here we reviewed the Home Office / Department for Education published outcome and action from the consultation.
This applies whether there is mandatory reporting or not. But please note Barnardo's is talking of the child disclosing. Addressing child abuse effectively requires multiple approaches rather than 'a one size fits all' approach that has failed Regulated Activities miserably for decades and which has so significantly contributed to IICSA being established.
Yet again Barnardo's talks about children reporting and not about 'adults failing to report' known and suspected abuse. This includes adults such as Barnardo's personnel at Medway who were contractually obliged to not report. Repeatedly omitting discussion of the unpalatable subject of adults not reporting adults with whom they might work, is a default for attendees at IICSA seminars. It's much easier to talk about 'helping children disclose' than to discuss 'adults failing to report.'  During the Safeguarding in Healthcare seminar the facilitator asked a question about staff failing to report on colleagues. The hitherto  gushy contributions from attendees who were keen to inform the seminar how well their trust was doing on safeguarding fell silent. The floor became an object of fascination for the safeguarding administrators around the table, it was as though the room had emptied. Let's remember, IICSA was initiated largely as a result of adults employed in Regulated Activities failing to report abuse. In the English Benedictine Congregation hearing, from 4-8 February 2018, it could not have been more obvious that this is the area of real challenge that must be tackled.  Ms Cherry raised yet again 'better training' ….et cetera – we've heard it all before; and the crowd pleaser 'culture change,' but no proposal for how this will be achieved. It's the public speaking version of 'Window' (chaff ) used to fill silence.
Where is the evidence of children being 'whisked away' in MR jurisdictions? It's an image repeatedly peddled by the 'on message' NGO's and of course it chimes with Government narrative. Barnardo's seems keen to please but once again – where is the empirical evidence to support its claim? Remember, we are addressing institutional abuse. In what settings today do Barnardo's design and deliver safeguarding in Regulated Activities?  We know of none, other than perhaps itself, but we will bear correction gracefully if mistaken. Not everyone in Barnardo's thinks 'guidance' functions as this article from the Sunday Times in 2009 shows us. Wendy Shepherd a Programme Director for Barnardo's North East in 2009 provided succinct comment in the article about the need for legislation rather than 'guidance'. We asked Javed Khan if Ms Shepherd was correct in her informed opinion, but received no reply.
When Barnardo's was in charge of children's homes (Regulated Activities) and had to design and deliver safeguarding, child abuse was being perpetrated by Barnardo's staff and not reported to statutory authorities. This is something which mandatory reporting helps address in 81.8% of developed nations which have some form of Mandatory Reporting in their jurisdictions. But like Canute, the DfE grips the failing status quo ever tighter.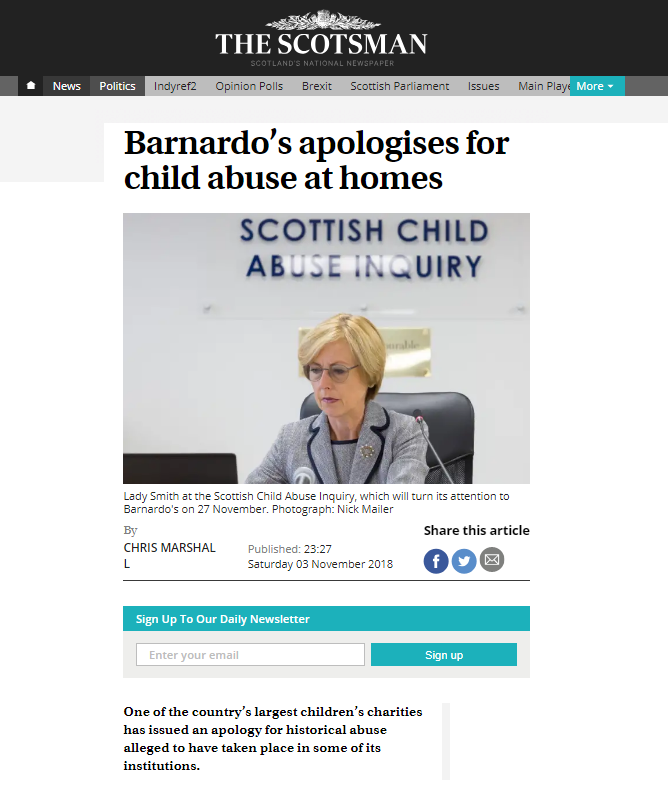 That the Medway contract existed is shocking. That it was signed by Barnardo's is beyond our understanding.  That these events have exposed some of the many inadequacies of the dysfunctional safeguarding framework is important. But how many other dubious 'agreements' might  Barnardo's have signed? The Department for Education's framework still permits such dysfunction. In this post we have cited Barnardo's services to South Yorkshire Police to provide assistance with Rotherham CSE.  If there was an agreement – what did that it say?
Here is how Barnardo's promotes itself  (our highlighting) :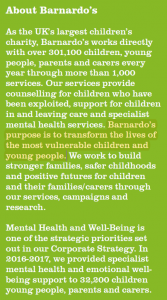 Barnardo's – transforming lives by signing a contract to provide 'independent advocacy' to children at Medway on the basis that it would refer no child protection concerns to the Local Authority.