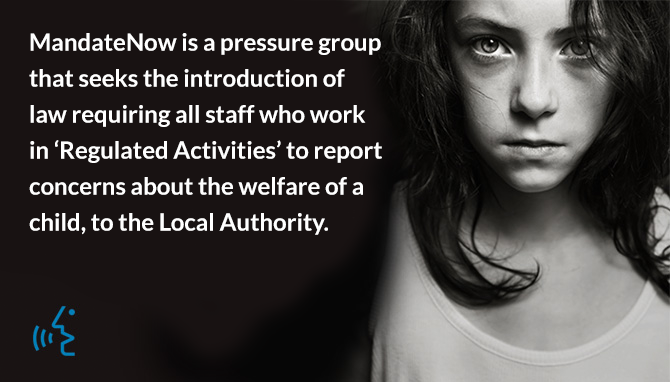 Conclusion : Mandate Now rejects the Government's option 2 proposal in the consultation which was issued on 21/7/16
Through the […]
Mandate Now review of :
Click on image to enhance quality
The Mandate Now position has always been that we follow the evidence. If sound research were to show that mandatory reporting in Regulated Activities (e.g. schools, hospitals etc.) were unhelpful to detecting child sex abuse, then we would stop our campaign for the introduction of such a law.
The government has consistently opposed mandatory reporting, and has cited various academic research papers which it claims support its position. These include: […]
Community Care 14.07.16
 Still we await this long delayed  consultation. If  ever a Government  was hoping a consultation  would be […]
On 22.6.16 the Spectator published an article by Josie Appleton who does not appear to be a regular contributor. She is convener for a pressure group that writes against regulations in everyday life. She also periodically contributes to the Guardian. Clearly Mandatory Reporting seems to be considered a soft target to which, just like any other piece of proposed legislation, Ms Appleton can contribute using her adult logic without appreciating the first two rules of child protection are (i) suspend adult logic (ii) apply significant experience because it is a complex subject. The piece is available here
There are several points of interest in the article. Firstly that appeared in this Conservative magazine at this time at all. The Government has repeatedly deferred the consultation despite there being little need. We understand it was ready to begin in December 15 and that it might now be launched just before the recess, ideally timed for the 'silly season.' Let's not forget Mr Cameron described child abuse as a 'national threat.'
Within the article there is a thumb print that suggests Ms  Appleton was briefed by  the Department for  Education media team. The idea that referrals from Mandated reporters are poor, while referrals from elsewhere are reliable is pure DfE fantasy spin.  
The Spectator declined to publish a comment from a reader maybe because it was too long or perhaps because of embedded links to evidence. The post was sent […]