Our proposed legislation for Mandatory Reporting by personnel who work in 'Regulated Activities' was used in this Private Members Bill tabled by Baroness Tanni Grey-Thompson on 20th July 2022. There is an important clause to protect mandated reporters from 'detriment.'
__________
Here is the  link to our 5 minute guide to MR 140723 This sets out what the Government needs to do to create solid foundations for effective child protection in Regulated Activities.
__________
UPDATE: Amendment 43 tabled by the Liberal Democrat Peer Baroness Walmsley in the House of Lords in October 2014 during the Serious Crimes Bill sets out legislation compatible with what Mandate Now seeks to have introduced. It will provide a solid legislative foundation on  which child protection in Regulated Activities can be delivered with far greater reliance. A consultation was ceded by Government, and this is expected to start shortly (January 2016).
__________
Is compromise possible between the status quo and Mandatory Reporting?
At a presentation to the Liberal Democrat Parliamentary Committee for Education in February 2014, Mandate Now was asked if compromise was possible between Mandatory Reporting in Regulated Activities and current 'discretionary reporting.'
Any compromise to mandatory reporting law such as applying it only to certain settings, limiting those who are mandated to report within a setting, or applying law only to certain children, or any number of other permutations, would introduce yet more opportunity for error to arise within the thicket of complex and hopelessly inadequate 'guidance.'
Compromise can also all too easily destroy the critically important objective of supporting all staff deliver effective safeguarding. Surprisingly therefore, and against the advice of the 'professionals' and 'stakeholders' who were invited by the NSPCC to its June 14 roundtable, this is precisely what it proposed in its mid-August Mandatory Reporting 'repositioning' paper. We responded here.
Limitations to restrict and minimise any new reporting legislation along the lines suggested above, would be similar to introducing drink driving law but then applying it only to truck drivers.  It would be absurd.
For effective child protection, we need to ensure that:
I) Staff report their concerns. Greater reliance can be placed on this being achieved with the introduction of law and and the application of consequences for failure to refer as the Australian research table below indicates.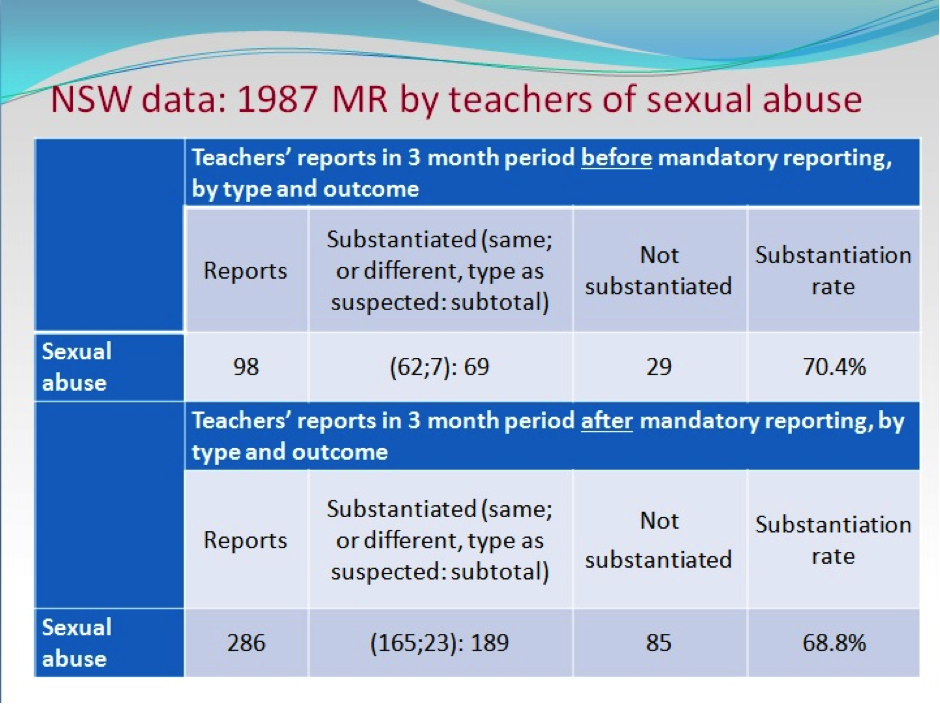 II) Reporters are supported and protected by the law. All too often reporting child sexual abuse can deliver career ending consequences for doing what is expected of staff under current 'guidance.'
If compromise is introduced to any part of a mandated protocol, weakness is introduced and reliability disappears. For instance if only a limited number of senior staff are mandated to report, then unmandated staff can be intimidated into silence. If mandatory reporting is limited to residential settings, then the vast majority of children who attend non-residential settings will continue to be failed by 'discretionary reporting.' and if mandatory reporting is applied to concerns arising only within the setting, then children who are sexually abused outside the setting will have a far weaker standard of protection applied.
Here is an example of what an employee in Financial Services understands about reporting a concern of possible financial irregularity. It could not be clearer. Under the Proceeds of Crime Act 2002, anyone involved in financial services is mandated to report suspicions of money laundering. Now imagine the equivalent in child and vulnerable adult protection.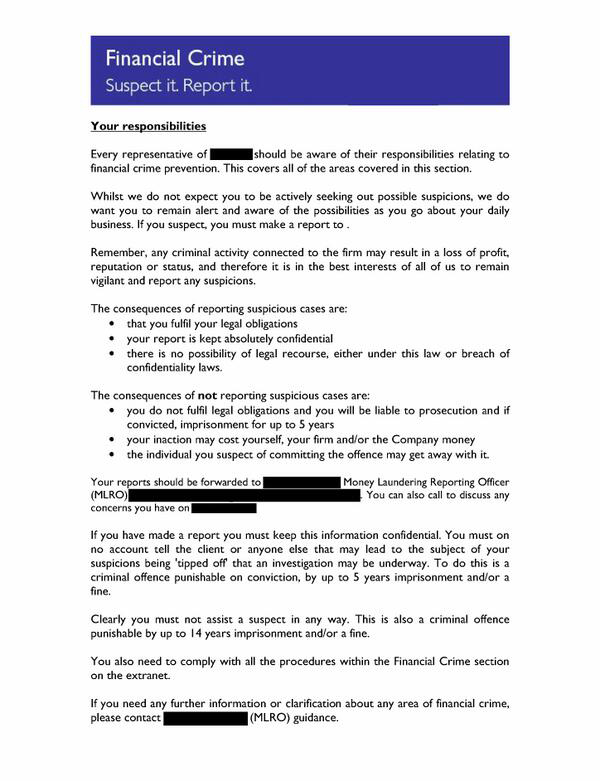 Our proposals are designed to deliver a  similar cultural change in child protection in Regulated Activities that  occurred in Financial Services with the introduction in 2002 of Mandatory Reporting of suspected money laundering. With this principle applied to child protection in these institutional settings there is a clear 'call to action' and legal protection for those who have on 'reasonable grounds' the need to report a concern – in other words everything that presently does not exist.
We see the consequences of 'discretionary reporting' almost daily in the media.  A recent example was the report on Southbank International School, a day school in central London , which did not report a child protection  incident involving William Vahey, a teacher at the school, to the LADO as an article in the Times of 26 April 2014 revealed. His employment at the school continued.

Of course, a parent who wishes not to pursue a complaint against a member of staff is perfectly at liberty to make this decision, but for the school not to refer the matter to the LADO contravened statutory 'guidance' as this letter from Mr Gove dated 5 December 2012 indicates.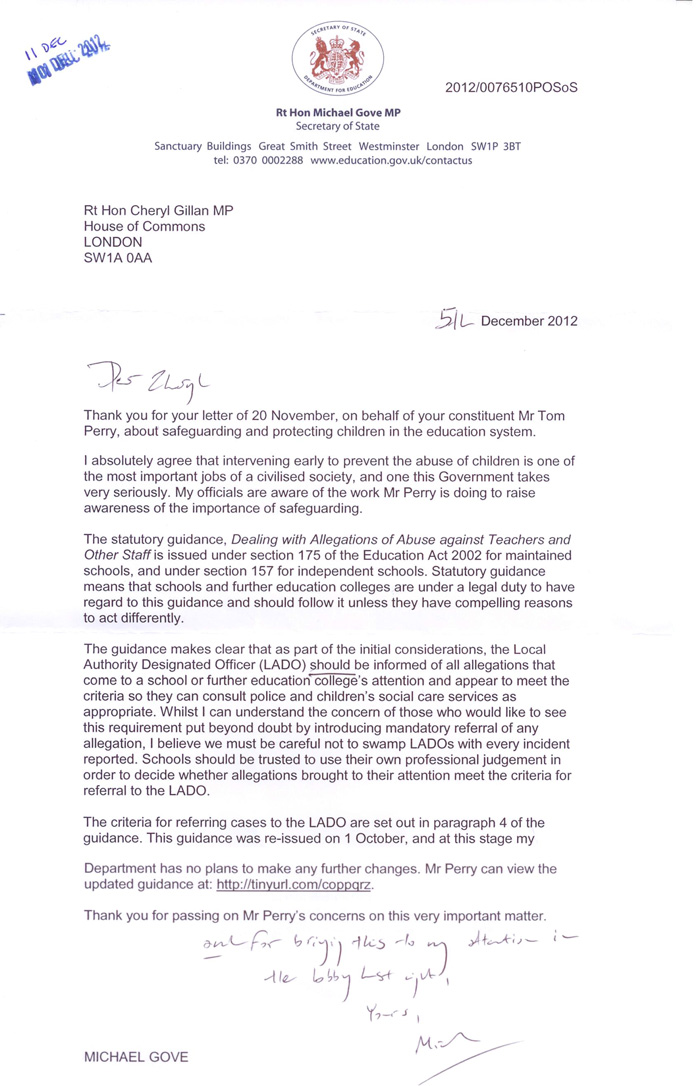 'Statutory Guidance' to which Mr Gove refers in his letter,  is nothing more than a behavioural expectation placed on staff which can be ignored. It explains why no one could be held to account for not reporting the incident. This article in the Guardian provides information of the review conducted by Hugh Davies OBE QC.
The NSPCC has been aware of the non existence of law for a long time but has remained unrelentingly supportive of this failing approach to child protection. In developed nations 81.8% have some form of mandatory reporting¹ yet it is England that has a Child Sexual Abuse Inquiry pending. What it is that the Department of Education has got right, that 81.8% of developed nations have managed to get so wrong?
Can you have a functioning child protection system in Regulated Activities which is reliant on nothing more than a behavioural expectation? Associate Professor Ben Mathews, Director Research at School of Law Queensland University of Technology, speaks about Mandatory Reporting to BBC R4 Today Programme on 4.11.13 and explains how Mandatory Reporting legislation is an essential component of a 'functioning' child protection system.
¹Daro, D, (ed), World Perspectives on Child Abuse, 7th ed, International Society for the Prevention of Child Abuse and Neglect, Chicago, 2006, p 26.
Mandatory Reporting of Child Sexual Abuse : vital for a functioning child protection system