From evidence given to IICSA , the Royal Commission into Institutional Responses to Child Sexual Abuse, the Hart Inquiry and the Scottish Child Abuse Inquiry, it is apparent that personnel working in Regulated Activities who do the right thing and adhere to discretionary 'guidance' and in some cases professional 'expectation' to report known or suspected child sexual abuse, often do so at great personal cost. We have heard of reporters being bullied, alienated from work colleagues, isolated and often forced out of the workplace through a variety of means including constructive dismissal.
To address this practice we took legal and academic advice and have updated our legislative proposal for the introduction of well-designed Mandatory Reporting by those employed in Regulated Activities such as teachers, sports coaches, clergy, healthcare personnel and many more.
The revised draft legislation can now be downloaded here.
For quick reference there are three new clauses to address 'detriment' which we feature below :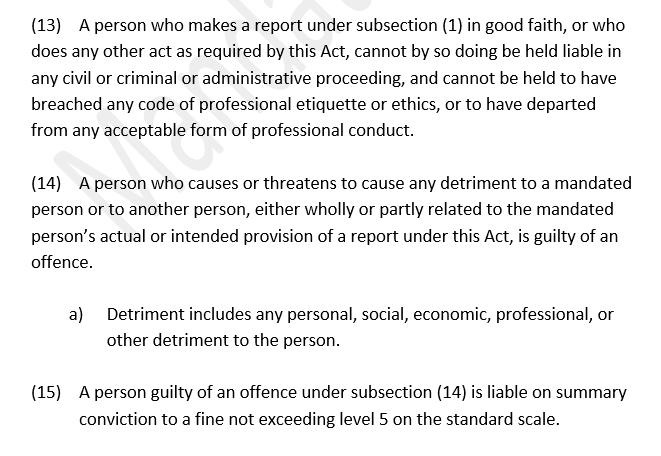 With mandated reporting of defined concerns supplemented by protection from 'detriment', our proposed legislation would put England and Wales on a par with the majority of jurisdictions in the rest of the world.