As you may be aware, Mandate Now contributed significantly to the amendment moved in the House of Lords by Baroness Walmsley. The amendment would have delivered effective MR but instead a now long overdue Consultation was promised. We are still waiting to have its terms of reference agreed.
The opposition amendment NC 17 debated in the House of Commons yesterday was incapable of delivering Mandatory Reporting. It appears to contain the watermark of the NSPCC's inadequate August initiative 'Strengthening duties on professionals…' to which we responded – see link.
Cheryl Gillan (C) Chesham and Amersham brought to the attention of the House the conflicts and contradictions within the amendment that rendered it an ineffective proposition. Among the many reasons it could not deliver suggested mandatory reporting was its continued reliance on 'discretionary opinion' which undermines the concept of Mandatory Reporting. We posted about this on Saturday.
So to the debate, and Cheryl Gillan's Contributions: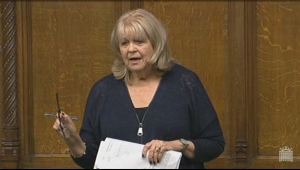 Contribution 1 – Diana Johnson, Under Secretary of State for Education with responsibility for Schools, led for the Opposition on the Serious Crimes Bill in these clauses:
Contribution 2 :
Sir Edward Garnier (C) QC also expressed concern about the drafting 'best interests of the child.' It is one of the points in our review.
Mrs Gillan proposed the front benches meet after the debate to discuss the terms of the essential MR consultation. Mr Steve McCabe (Shadow Education Minister) supported the proposal in his speech.
Despite Cheryl Gillan's suggestion, the Opposition decided to put the amendment to the vote and lost by 97.