On the same day as the debate in the House of Lords, Mandate Now issued a press release under the headline 'Confused Football Association safeguarding policy fails children' in which we reviewed the current child protection policy operating at the grassroots of football. Disturbingly the policy was endorsed by the Child Protection Sport Unit of the NSPCC despite it mistakenly claiming law exists to report abuse. A summary of the errors in the policy are available here.
Well meaning employees working in Regulated Activities who have responsibility for children in their care are being failed by a dysfunctional child protection framework, the legal foundation of which has always lacked law to report. It is still discretionary for an employee of a Regulated Activity to report suspected or known child abuse. In the event someone decides to report, they have the dilute Public Interest Disclosure Act to provide nominal protection.
Below are two speeches from the debate.
Baroness Brinton referred to our review of the FA policy which was endorsed by the CPSU. A top line claim in Section 6 about the existence of law is just wrong.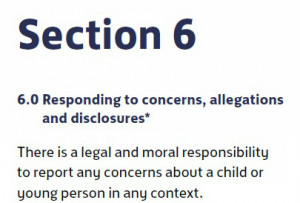 Below from a published Government document in July 16, the reader is informed there is no law. We think this is the first time Government, of any hue, has admitted the non-existence of law to the public in writing.
Despite the glaring error, the NSPCC CPSU gushes its endorsement of the FA child protection policy with unrestrained brio.