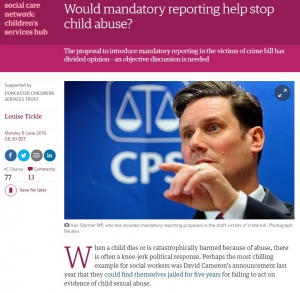 You can read the article here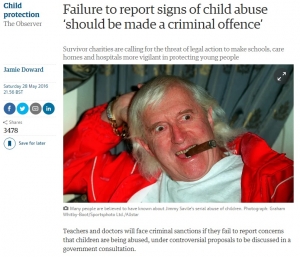 Although the positions of the two child protection NGO's appear to differ in this article their approaches to mandatory reporting are in reality almost identical in that both are keen on the status quo. The NSPCC sidesteps the question on mandatory reporting and talks of sanction predicated on 'known abuse' The view of these two organisations seems to be that neither want to be seen to hold a different position to Government.
The NSPCC's raising 'known abuse' hints at its position statement launched in July 2014 which we reviewed it in detail here and concluded : If the objective is the introduction of sound legislative foundations the proposals from the NSPCC are profoundly flawed.
In July 2014, to coincide with the NSPCC's 'strengthening duties' policy statement, Peter Wanless said to the Independent newspaper
"However, our focus for criminalisation is on cover-up, not the merest suspicion that a child might have been harmed."
Why does the NSPCC adopt a seemingly discriminatory approach to regulated activity staff being required and supported to report concerns about the safety of a child, but not concerns arising from
talking PANTS?
Please read our review of the April 2016 article by Professor Ben Mathews entitled – Impact of new mandatory reporting law on reporting and identification of child sexual abuse: A seven year time trend analysis. The empirical evidence contradicts the NSPCC.