On 20th July 22, Baroness Tanni Grey-Thompson introduced a Private Members Bill titled :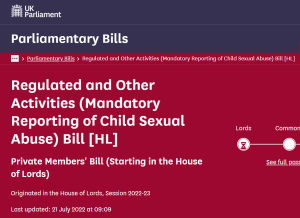 Regulated and Other Activities (Mandatory Reporting of Child Sexual Abuse) Bill [HL]
It's available in full here.
It coincided with us updating our model for MR on the 16th July which in summary, mandates prescribed personnel who work with children in 'Regulated Activities', to report known and suspected child sexual abuse to specified agencies. Importantly, mandated reporters are also provided with significant protection against 'detriment.'
It ran out of time.