Two days before the sentencing hearing of Peter Wright, the former headmaster of Caldicott School, Tom was interviewed by Jon Snow who asked about the dynamics of abuse and the progress on Mandatory Reporting. During the time Tom was in the Channel4 studio Hugh Henry who had abused pupils at Gayhurst school in Gerrards Cross as well as Caldicott and who featured on the same indictment as Wright, committed suicide by stepping onto the railway tracks at Amersham.
The Wright case finally permitted reporting restrictions to be lifted and the scale of abuse at Caldicott started to see daylight. There were other teachers against whom complaints were made, many were by then dead. This included Peter Hill the former Deputy Head to Wright, who committed suicide some years before Wright was first charged.
Here is a chronology of court appearances, indictments, and outcomes: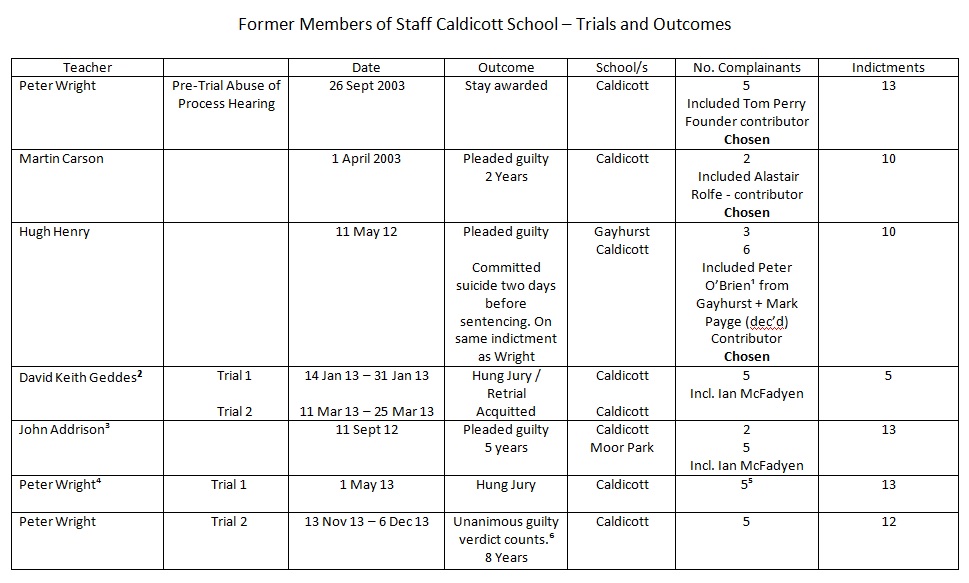 See the marvellous article by Peter O'Brian in the Toronto Globe and also his excellent interview on CBC
Complainants in the Geddes case came forward following the broadcast of the documentary Chosen
Complainants in the Addrison case came forward following the broadcast of the documentary Chosen
Complainants in Wright trails 1 + 2 came forward following the broadcast of the documentary Chosen
Each of the five complainants in the 2003 indictment gave evidence of bad character in both Trial 1 + 2 of Wright
See photo below this picture and link to CPS
Whenever an inquiry starts one can expect only to bring a proportion of perpetrators to court. And so it was with Caldicott.  Following the broadcast of 'Chosen,' a number of former pupils complained of sexual abuse by former Deputy Head George Hill who committed suicide some time before Wright was first charged in 2003. It is speculated sight loss contributed to his decision.
Restriction applied for large periods of time. Men silenced for decades where silenced once again. Reporting restrictions on the the cases of Addrison and Geddes and Henry applied until Wright's conviction.  Finally the Caldicott cases were reported:
Here is the interview with Jon Snow.
Tom on C4 News QT from True Vision on Vimeo.
The Caldicott case which was reported extensively by Andrew Norfolk of the Times, seemed to be the catalyst for what followed. Just a few weeks later this article appeared, and many more followed.
You can read more articles about the trials and see the documentary that assisted get the cases to court here