The Home Office consultation 'Reporting and Acting on Child Abuse' was secured on 28th October 2014 as a result of Amendment 43 tabled by Baroness Walmsley (LibDem) during the passage of the Serious Crimes Bill.
Sometime before the Bill arrived in the Lords, Mandate Now had been advised by an individual close to our pressure group that the Church of England was fully subscribed to mandatory reporting in Regulated Activities. News reached us that the Lord Bishop of Durham Paul Butler, who at the time was Chair of the Church's National Safeguarding Panel and Lead Bishop for Safeguarding in the Church of England, intended supporting Baroness Walmsley's amendment not least because Justin Welby was in agreement. Here was a 'Regulated Activity' acknowledging that without law, no one can place reliance on child protection in any Regulated Activity because policies are grounded on nothing more than a hope that someone will have the courage to do the 'right thing.' It's an arrangement designed to fail. We said so in the statement that opened our submission to the Consultation dated 6/10/16 :
Statement

The Government granted the consultation on Reporting and Acting on Child Abuse and Neglect on 28th October 2014 during the debate on amendment 43 tabled by Baroness Walmsley (LD) in the Serious Crimes Bill. The amendment sought the introduction of MR on the following basis. This submission varies in a number of respects from Lady Walmsley's amendment.

The "statutory guidance" which masks the absence of a statutory child abuse reporting requirement has for decades misled most people employed in child centred professions, and failed staff and children alike. The current expectation that adults working in RAs 'should' report concerns of abuse indicates the discretionary nature of the expectation to report. The failure of statutory guidance to deliver a child protection culture on which reliance can be placed is a key reason for the Government having to launch the Independent Inquiry Into Child Sexual Abuse ("IICSA") which is investigating whether public bodies and other non-state institutions have taken seriously their duty of care to protect children from sexual abuse in England and Wales. The repeated claim that child protection 'is all different now' is mistaken because there has been no change in the relevant law. There is still nothing in the child protection framework that requires, supports, and legally protects staff who work in Regulated Activities to report suspected or known abuse.

An irreconcilable difference in current reporting arrangements is that if a doctor is presented with a girl whom she suspects is being abused and whom medical examination establishes to be genitally mutilated, the doctor is legally required to report FGM but is not required to report the additional suspected child abuse.
A child protection system grounded on nothing more than a 'should' has no hope of being reliable because it's a discretionary arrangement. Very often it doesn't work which is one of the major factors that led to the Independent Inquiry into Child Sexual Abuse.
The start of Lord Bishop Paul Butler's speech during Amendment 43 is below, and here is the link to the full transcript in Hansard
Since I last spoke in this place on this matter, the need for an obligation to be placed ​on certain individuals to report knowledge or reasonable suspicions of abuse involving the most vulnerable has become more pressing.

This issue will not go away. Time and time again, individuals in institutions have failed the most vulnerable in their care by failing to report. The fact remains that, although child abuse is a crime, reporting it is only discretionary, which is why I welcome this amendment, the provisions of which, as can be seen, have been ​strengthened and clarified since our last debate. Regulated activity providers and those who are in a "position of personal trust" must be held accountable if they fail to report.

As I stated previously, I agree that imposing such an obligation may increase the number of reports, and this will need to be resourced properly. However, this increase is no bad thing. Knowledge or reasonable suspicions of abuse must be reported. The omission of an obligation has allowed those such as Savile and Bradbury to continue to abuse.

We need a culture in our institutions and across our society that prioritises the protection of the most vulnerable over and above all other considerations.
On this day, the 28th October 2014, the Church of England's position on mandatory reporting was entirely clear.
During the debate one Peer spoke against the amendment – Baroness Howarth whose speech is here. Lady Howarth declared her interest as a Director of the Lucy Faithfull Foundation which is one of the few NGO's in the country that assesses, treats and attempts to rehabilitate child sex offenders, or likely offenders. We can all support the principle of this work. But if the interests of a charity are going to undermine the long overdue introduction of law which can make such a difference to the dysfunctional child protection system in Regulated Activities, then its lost its direction. MR exists in one form or another in the majority of countries on all four continents, and on her evidence free opinion Baroness Howarth is against it. Abusees would understandably be offended at parts of her speech which indirectly acknowledge the framework is dysfunctional.
Baroness Howarth is from a recognisably misguided school of thinking:
…the atmosphere around child abuse, and particularly child sexual abuse, was very different from the one we know now.

We are in a different era in relation to child abuse and people are now very highly motivated to get it right.
Baroness Howarth clearly considers child protection 'is all different now.' She's from the cadre of the easily pleased but her comments bear little scrutiny. It would take less than three minutes to disprove the claim that 'things are different now' (better) in Regulated Activities. Firstly the foundation of child protection remains discretionary reporting of known or suspected abuse; there is no legal protection for those who report the most difficult report that anyone can make; most often it is only a suspicion that can be reported. As research now demonstrates, discretionary reporting leads to significant under-reporting. That means children who may be known or suspected of being abused are left to an unknown fate.
Baroness Howarth continued :
As I said in the last debate, it is important that systems are in place to ensure that there is a clear pathway for reporting. Most organisations are working towards that, if they have not already got it. Most local authorities and statutory authorities have it; here I declare an interest because I am working with the church at the moment to try to ensure that it has that clear pathway to take people through to the reporting place.
Isn't this an admission that the Church, of which Baroness Howarth is a member, does not have clear pathways? Without mandatory reporting it is impossible to have a 'clear pathway' on which reliance can be placed for the aforementioned reasons. In any institution there might be some who don't want a concern to reach the Local Authority – and so it has proved repeatedly in the Church of England.
I do not think that they would knowingly fail to carry out that duty (to report) because the consequences are huge.
Baroness Howarth's opinion is a triumph of fairy tales over reality. Everyone wishes to believe they would instantly report their suspicions until they are actually faced with having to report something. Experience shows that all too often reports are not made. What consequences exist for failing to report suspected abuse on reasonable grounds in the CofE or any other Regulated Activity? When did the last cleric appear in a UK court for failing to report abuse? Never. Consider the Diocese of Chichester and the events surrounding among others, Cannon Gordon Rideout. The role of Bishop Wallace Benn in the scandal is there for all to read in the Meekings Report, particularly in relation to the Rev Roy Cotton whose name appeared in the media yet again, at the time of writing this post :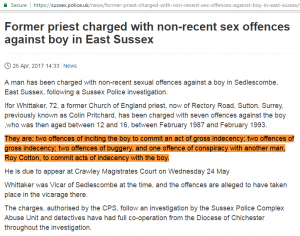 Another Peer who is a member of the Church and involved in child protection issues is Baroness Butler Sloss. Her report titled 'Historic Cases Review of Roy Cotton and Colin Pritchard' (28/1/12) seems to attempt to undermine the fundamentally sound Meekings report which despite it being dated February 2012, was authored in 2008/9 and not published until the same day as the Butler Sloss report in 2012. Defence of an institution's reputation rather than child protection seems to be uppermost in the minds of some in the Church of England. A visit to this page on the subject of Peter Ball provides further examples of the lengths to which members of the Church will go to protect their own. Even a Judge wrote to the investigating police officer in the Ball case. Almost all the correspondents asserted they were not attempting to influence the case. If they were not, what was the purpose in writing to the police?
Baroness Howarth is against mandatory reporting for the reasons she stated in the debate. Noticeably, within her child protection experience, which includes among other places Shirley Oaks Children's Home, she does not mention adults in Regulated Activities failing to report known or suspected abuse. Those against mandatory reporting seem to observe an omertà on this key subject because one suspects, it undermines their position. How does one make an individual or organisation report a concern when they are disinclined to do so. The Church of England has a long history of this and the current discretionary reporting arrangements have been very helpful to institutions keen to prioritise reputations over child welfare.
On 25th Jan 2016, Bishop Paul Butler announced he was stepping down from his safeguarding role. He was replaced in June the same year by The Bishop of Bath and Wells, Peter Hancock. What experience episcopal appointees bring to this important position is unknown, but one suspects it's close to zero. It follows therefore that appointees will be disproportionately reliant on people wearing big badges proclaiming safeguarding expertise and who usually come to the subject from the direction of familial abuse rather than all-important institutional abuse.
On 8th October the National Safeguarding Panel for the Church of England met at Lambeth Palace. It was at this meeting that the Church's mandatory reporting volte-face became apparent. Members of the Lucy Faithfull Foundation were present including Baroness Howarth. The Government's Consultation was on the agenda but only just, it was left to the very last minute of the meeting. Mr Tilby, the National Safeguarding Adviser gave Baroness Howarth the floor and with metronomic predictability she delivered her unevidenced diatribe against mandatory reporting. Asked whether the Church was making a submission to the Consultation, Mr Tilby said it was not (despite it sponsoring Amendment 43), and that should the Government move towards Mandatory Reporting, the Church would become involved at the committee stage.
With that the Church's commitment to mandatory reporting evaporated and the meeting was closed almost immediately, denying other attendees the time and opportunity to contribute or debate. Hancock and Tilby had disappeared a Church policy, 'just like that.' Throughout the meeting not much was said by Peter Hancock. He seems to go wherever Mr Tilby indicates.
When, where and how did the coup occur? Who sanctioned it? We decided to ask on Twitter.
When faced with our polite questions Peter Hancock experienced difficulty using Twitter despite having been on the service since April 2015 and having tweeted many hundreds of times. But answering public interest questions publicly is a challenge to some including it seems the Bishop who fell silent in favour of the shiny badged safeguarding team which answered a question that hadn't been asked before it fell silent. Omertà returned.