Baroness Tanni Grey-Thompson's – 'Duty of Care in Sport' report is published today.
A key paragraph is on p.20 under in 'Theme 5'- safeguarding.
Mandatory reporting

It should be recognised that organisations that work with children and vulnerable adults can attract individuals who will seek to exploit and abuse them – there is a need for continual vigilance. The government should therefore consider extending a Duty to Report to all sports organisations. This would mean that if a person knows, or has suspicion of, any abuse taking place, they must report it to the relevant body for action to be taken.
The report makes clear why mandatory reporting is needed to improve the safeguarding culture in sport. The following paragraph describes the current challenges that suggest sport may not be capable of self motivated reform.
Culture

Contributors to the review reported that it was often difficult to challenge the programmes that they were in, and hard to know where to go if they want to make a complaint about behaviour. It was also clear that people did not want to be seen to be causing trouble or jeopardise their sporting career, and felt they had little power to bring about change. Many reported that bullying behaviour could at least sometimes be the 'norm' in sport, and that they felt that they just had to "get on with it". This suggests that in some areas the culture is not the positive one that it should be. It is vital that participants know where they can go to make a complaint or blow the whistle on poor behaviour. Without second and, critically, third party assurance, the ability to make substantial change is limited.
Let's hope the government takes notice, but such is the prejudice against mandatory reporting by Government, police, LSCB's Social Workers, teaching unions and the increasingly out of touch NSPCC, all supporting the Government's addiction to the failed status quo, that one fears Baroness Grey-Thompson may be howling into the wind.
Meanwhile in the USA :
Star gymnasts testify to Senate judiciary committee about sex abuse scandal
Unites States Olympic Committee ('USOC') apologizes for 'failing the people it was supposed to protect'
Senator Chuck Grassley criticizes USA Gymnastics for declining to testify
Dominique Moceanu describes a 'culture of fear' and 'humiliation'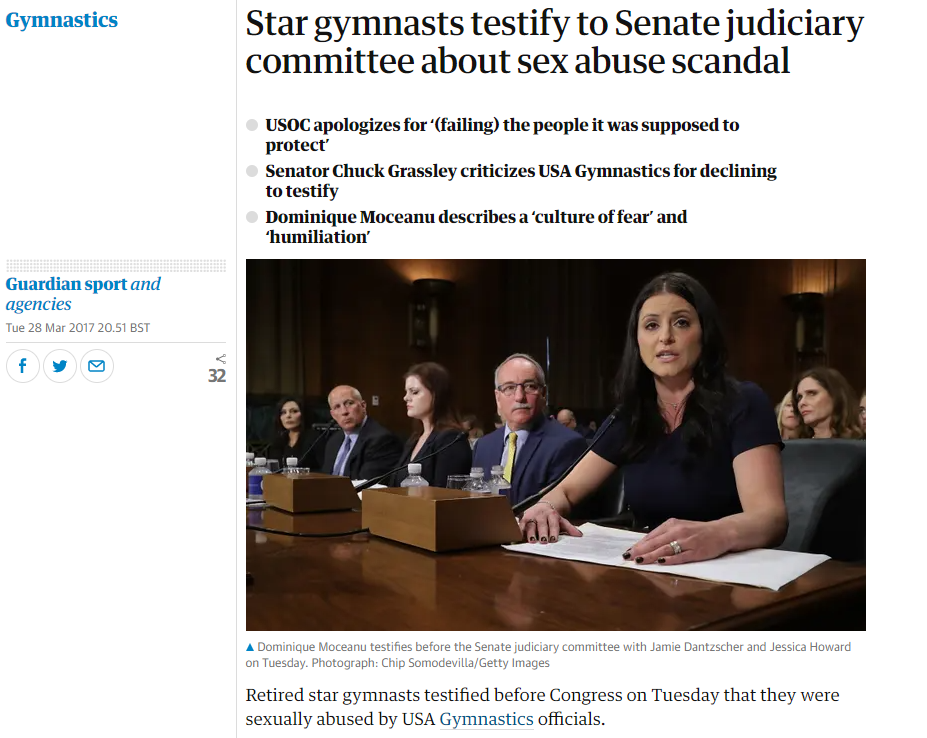 The Guardian article is available here and includes film of the former gymnasts giving evidence to the Senate Committee
A current mandatory reporting Bill proposed and sponsored by members of the US Senate judiciary committee will require sports governing bodies under the USOC umbrella to report allegations of sexual abuse to law enforcement and train employees on how to handle situations. The statute of limitations for victims to sue their abusers would also be extended.
Each of the gymnasts giving testimony confirmed the introduction of Mandatory Reporting of known and suspected abuse would positively impact the protection of children in sport.
The conditions for elite sportspeople are almost identical in the UK, with the role of staff and coaches being vitally important. If mandatory reporting is now seen as an essential component of functioning child protection in sport within the USA, how can it not be in the UK? We would welcome the British Government drawing the same conclusions from the same evidence and introduce mandatory reporting in the UK.
Well designed designed Mandatory Reporting in sport is essential. We said so in our submission to the consultation – Reporting and Acting on Child Abuse and Neglect which we helped secure. We also included draft legislation which specified sport as a Regulated Activity to be included. We await the outcome from the Home Office.