Ian Dale discusses with Harriet Harman QC – Shadow Deputy Prime Minister, issues relating to the #CSAinquiry following a call from a listener who rightly wanted to see the inquiry statutory from the start. Following Harman's easy criticisms of the HO's performance to date, Dale then asked if Labour would support the general principle of an SI. Harman says she thought there would be cross-party support for such a move.
Dale then asked 'would you back a statutory inquiry or a Royal Commission?' Harman hesitates and aligns Labour firmly behind the Government's position.
For the Government, and also the opposition according to Ms Harman, conversion of the current 'panel' inquiry to a statutory one will depend on (i) a request from the new Chair and (ii) a discretionary decision from the Home Secretary. Let's not forget the new Chair will be under immense pressure to not request conversion despite Statutory Inquiries currently existing in similar inquiries in both Northern Ireland and Australia. 'Conversion' delivers very significant shortcomings, including the lack of due process.
Sir Bill Cash MP (C) former shadow Attorney General, understands this unsatisfactory state of affairs which quite inexplicably appears to have cross party support. Here is Sir Bill spelling one disadvantage of panel conversion approach :
Click on images to enlarge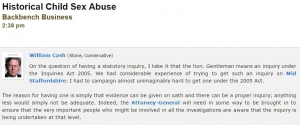 3rd November 14 Child Abuse Inquiry statement – The Home Secretary
In the same debate Sir Edward Garnier (C) QC MP also urged that the CSAinquiry should be made statutory now: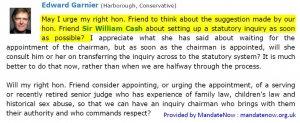 Not happy with this single outing he reinforced the point during the Backbench business debate on #CSA inquiry progress on 27/11/14 :

The answer he received from the Minister; on this occasion Karen Bradley MP – Parliamentary Undersecretary of State for Modern Slavery and Organised Crime was the answer given by Harriet Harman to Ian Dale – almost the same words. The leaders in SW1 seem to be on message.
On 4th December 14 questions to the Leader of the House from Cheryl Gillan (C) :

Follow this link to hear the reply from William Hague – the Leader of the House.