Mandate Now attended a debate on the 21st November 2014 kindly hosted by the Loudoun Trust at the Portman Clinic in London. The invitation and the subject of the debate feature below: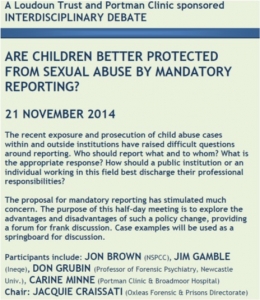 Speaking for the proposition, surprisingly, was the NSPCC. It was an odd choice given the charity's sustained hostility to Mandatory Reporting until just a few months before the debate when, as a result of increasing public pressure over reporting failures in 'Regulated Activities', it released a porous proposal for mandatory reporting in August 2014.
This largely promoted the status quo in new clothes but included the magic word 'mandatory.' Until then the NSPCC had been welded to the 'statutory framework' authored within the Department for Education and which has been failing children, vulnerable adults and good staff for decades. This shift it seems, was partly prompted by the NSPCC realising it was likely to be on the wrong side of history and so, the 'Strengthening Duties' initiative was magicked into existence. We replied to it here.
Jon Brown (NSPCC lead for tackling sexual abuse) spoke for the proposition except he was reading a prepared speech at extraordinary speed. He also timed it to perfection – he was like a Swiss train except it was almost impossible to process what he was saying. Jim Gamble also spoke for the proposition and in contrast he had eye contact with his audience, was confident, engaging and framed his argument for the introduction of law very well. We all 'got it' even those who were against the proposition.
Following the debate Mandate Now. and others, were keen to secure a transcript of Mr Brown's speech from the organisers who in turn requested it from the NSPCC. Having been unsuccessful they eventually put NSPCC in direct contact with us. Ms McCrindle is Senior Analyst in its Strategy Unit, who was present at the debate, responded. Here is a small extract from her email :
'The event at the Loudoun Trust was a roundtable discussion and as such neither Jon nor the NSPCC prepared a script. The reason we are not able to provide a script (or transcript of what was said) word for word is that we don't have one.'
Please note Ms McCrindle, who conducts research at the NSPCC, has incorrectly redesignated the gathering a 'roundtable discussion' to aid, one speculates, her characterisation of the 'impossible' request we were making.
From: Tom Perry
Sent: 12 December 2014 15:35
To: Lisa McCrindle NSPCC
Cc: 'Loudountrust'; 'Jon Brown NSPCC'; 'Alan Wardle NSPCC'; 'Peter Wanless NSPCC'
Subject: RE: Loudoun Trust Debate – NSPCC transcript.
Dear Ms McCrindle,
Thank you for your email.
I have recently been contacted by two attendees of the Loudoun debate at the Portman clinic.
One wrote: "Jon Brown's points were read very quickly, I was taking notes for my personal interest. The notes in relation to the NSPCC are much shorter than for the other speakers as I did not have time to write and listen. I did ask for a copy of the notes from the bench but was told they would have been hand written and not easy to send me."
The second attendee said he found it impossible to take notes of the NSPCC contribution.
What is the point of participation in a debate when we cannot understand what is said by the contributor, and then the contributor declines to provide a transcript of what clearly was a prepared and read speech? It makes no sense and it does not reflect well on your organisation.
You propose a meeting. The NSPCC previously proposed a meeting via your CEO Mr Wanless. We responded positively however we have been awaiting a reply from him since 12th June 2014 as you can see by reading the exchanges here:
Whatever happened to the @NSPCC? It wanted to talk, then on receiving the draft agenda fell silent:
The impression given collectively by senior officials of the NSPCC is that you claim to be interested in dialogue on child protection policy issues, but whenever the dialogue might be with informed people who hold a view which differs from your own, that interest suddenly evaporates. You are welcome to correct that impression, firstly by providing a photocopy of Jon Brown's notes of his Loudon Trust speech, and secondly by prevailing upon Peter Wanless to provide the information suggested in his email of 12 June so the meeting he suggested can finally occur.
Tom Perry
Ms McCrindle did not reply, and not a murmur from Mr Wanless.