In 2008 child protection in England and Wales was described in the following terms by the co author of a highly regarded reference book on child protection law in common law jurisdictions:
'What is the current law?
To start it is important to recognise two problems in the current law relating to child abuse:
It is a patchwork of different types of law often created as a specific reaction to a particular scandal. It has no cohesion and can be contradictory. It is, for want of a better description, the Dangerous Dogs Act writ large.
It is unwieldy. There are hundreds of different rules in different places.'
The co author was expressing opinions shared by others. Here is Sir Roger Singleton on the same subject in 2009 following the publication of his report 'Keeping Our School Safe' which was commissioned by the Secretary of State for Education Ed Balls, just three weeks after the first broadcast of the BAFTA award winning documentary Chosen about institutional child abuse and its long-term effects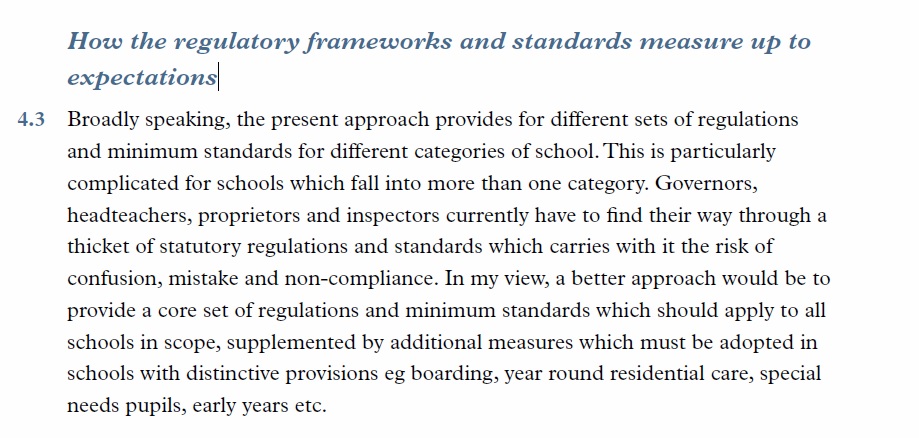 "A thicket of regulations," which has improved very little since 2009 despite the fetish with deregulation that saw Mr Gove prune so termed 'statutory guidance.' 'Professionals' still have little understanding of law and are mostly unaware that protection is grounded on nothing more than whistle blowing i.e., the hope that a member of staff will report a concern that no one wants to hear, to the very people (the administrations of institution) who most don't want to hear it and who are then, not obliged to report the concern to anyone.
In late 2013 there was increasing media coverage of child protection failures in institutional settings, particularly boarding schools. One of the bigger cases was Caldicott which splashed the Times newspaper on consecutive days in December. It seemed to act as a catalyst for many other former pupils of independent boarding schools to speak to the police.
Below is just a small part of the media coverage on Caldicott. Perhaps as a result of the attention paid to boarding schools by the media Ms Hilary Moriarty, the former CEO of the Boarding Schools Association, decided in January 14, to inform willing readers of Times letters that in these schools 'it (child protection) is all different now.' Except it isn't. The claim is a triumph of imagination over reality as a prompt reply to her letter made clear.
Her letter was published in the Times on 1st January 2014. The reply corrects the absurd claims. One can only speculate how poor child protection delivery might be in membership schools of this Association if the Chief Executive manages to get the law this wrong.
To further highlight the lack of child protection knowledge in these settings, the Headmasters Conference ("HMC") decided to step into the tsunami of coverage just three weeks later, presumably in an attempt to calm concerns of parents whose children were on waiting lists of member schools. It also wrote to the Times offering a variation to Ms Moriarty's misguided effort by claiming – 'it's all different now, but it hasn't been explained in media coverage.'
A reply to the HMC letter arrived so quickly it appeared in the same issue.
The principals of these schools are once again wrong. The fundamentals of child protection have not changed in fifty years because because the failed model of 'discretionary reporting' of alleged and known abuse remains unchanged. While it does, no assurance which claims child protection 'is all different now' that is made by any Head or Chair of Governors, no matter how well regarded they might be, can have reliance placed upon it because it is incorrect.
The next person to speak on the subject was Robin Fletcher the current CEO of the Boarding Schools Association who replaced Ms Moriarty. He took to LBC on 20/5/15 to speak to Iain Dale. His emphasis was that this rash of child protection issues all related to past events. This is just a shuffle away from 'its all different now.' Iain Dale was unrelenting in this prickly interview, and he raised the subject of mandatory reporting which received a very confused response from Mr Fletcher. Dale promulgated that in the absence of MR law the schools could engross a requirement to report concerns into employment contracts. It is an excellent point which Mandate Now has raised with several settings on a number of occasions, but Mr Fletcher's attempt to sidestep the question merely increased the temperature of the interview :
After a long silence a very recent letter from the CEO of the Independent Schools Association, Mr Neil Roskilly appeared in the Times on 14/3/16 relating to a Times article about 'Sexting,' a matter which should concern us all :
Once again claims were made that simply do not bear scrutiny. 'Statutory guidance' has this time misled the CEO of a significant schools Association into believing something tangible exists in law. It doesn't.
The thicket of regulations to which Sir Roger Singleton referred is still confusing leaders of education. The fault lies in large part with the Department for Education which in our experience has limited grasp of the subject itself. But the 'professionals' are not without blame. There is no excuse for failing to read all the documentation and consulting competent lawyers.
Until there is a sound foundation of effective MR legislation, no reliance can be placed on safety critical child protection in Regulated Activities for the reasons stated on this website. It would be wise for the leaders of schools groups to support the intro of MR – it is in the interests of their staff, the Governors of the setting and of course the pupils and their parents. Effective Mandatory Reporting is the important catalyst needed to transform the culture of child protection in all Regulated Activities, and it delivers clarity to a complex subject as empirical data demonstrates.