The long delayed consultation on Mandatory Reporting ("MR"), ceded from Government on 28th October 2014 in the House of Lords during the passage of the Serious Crimes Bill, still awaits launch. But this has borne an advantage with the release earlier this week of important new longitudinal research into the effects of MR from Ben Mathews, LLB, BA, PhD, Associate Professor in the School of Law at Queensland University of Technology in Brisbane, Australia. He is also Director of Research in the School of Law and is co-Leader of the Children's Rights and Welfare research program in QUT's Children and Youth Research Centre.
Dr Mathews' major area of research expertise is in children and the law, with a focus on issues concerning law and child maltreatment, civil damages for child abuse, children and educational systems, medico-legal issues, children's rights, cultural violence against children, and children's criminal responsibility. He has conducted large multidisciplinary studies of laws regarding the reporting of child maltreatment and has published extensively in Australia and internationally, with 45 publications. Ben's research and knowledge translation has led to changes in law, policy and practice.
________
In short this is research into the impact of mandatory reporting on the jurisdiction of Western Australia. It takes three consecutive years of data prior to the introduction of law in 2009, and compares it to four consecutive years of data following the introduction of mandatory reporting.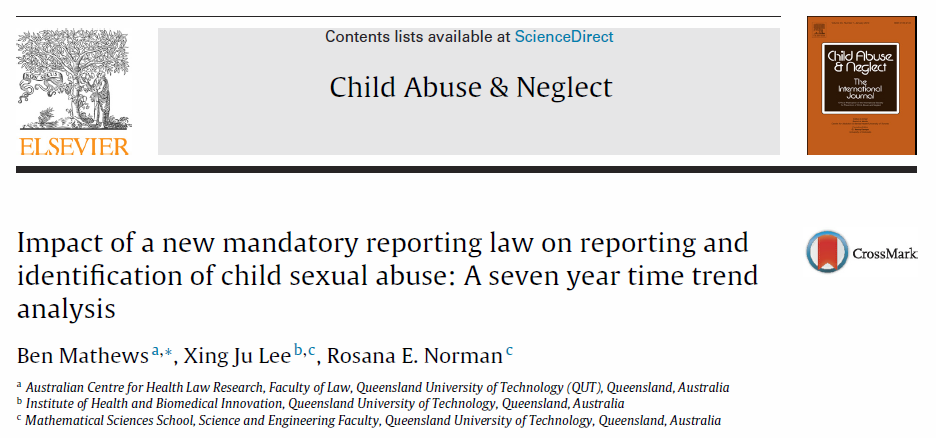 This paper is available from : Child Abuse and Neglect
The citation is : Mathews, B., Lee, X., & Norman, R. (2016). Impact of a new mandatory reporting law on reporting and identification of child sexual abuse: a seven year time trend analysis. Child Abuse & Neglect, 56, 62-79.
________
The results of the research suggest MR law is associated with a sustained increase in the identification of CSA.
A review of the paper is currently being authored by Mandate Now which we hope to publish soon.