In memory of Neil Todd, a complainant against Peter Ball, who committed suicide in 2012.
Yesterday the story broke in the papers about the letters of support for Bishop Peter Ball received by the CPS and police in 1993 when 'consideration' was being given to charging him with sexual offences against young men. He wasn't charged at the time instead receiving a 'caution,' but in October 15 2015 he pleaded guilty to crimes involving young adults and was imprisoned for 32 months. The crimes which were pending against children were 'negotiated out' of his admission but they remain on file.
On the Today programme this morning this piece:
Here is an excellent report from the Guardian for which MN provides the front page of the 01 January 2016 edition.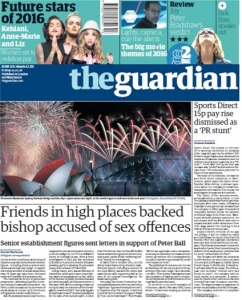 None of the papers published the letters and so MN has provided this service. An important question that arises is – how can any of these lobbyists know what goes on in an adult's bedroom?
From reading the letters, one is left with the feeling this was a concerted effort by misguided members of the 'great and good' who just could not believe this man might be an abuser. It was naive thinking even then. Why 'friends' rushed to assert Ball was innocent when they had no possible means of any of them knowing is extraordinary. What did they think they knew about this most secret aspect of his private life.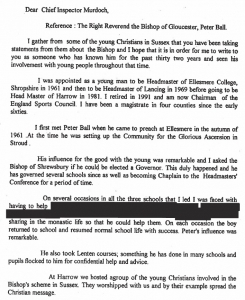 A letter from I.D.S.Beer, CBE – former Head of Ellesmere College Shropshire, then Head of Lancing College, before becoming the Headmaster of Harrow, Chairman of the England Sports Council and a magistrate in four counties. From all three of these schools Mr Beer said he had 'occasion to send boys to share Ball's monastic life. On each occasion the boys returned and resumed normal school life with success.' You can read the letter in full in this link.
One could be forgiven for thinking this man was used as a supplier young men in which Ball had such an interest.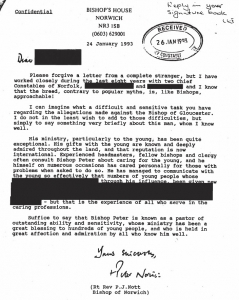 The letter is from the Bishop of Norwich P.J.Nott, the third paragraph makes for uncomfortable reading. It indicates Ball had become something of a Pied Piper which in modern understanding shares a great deal with grooming. One of those who clearly was groomed. by a seemingly charming Peter Ball. appears to be the author of the letter.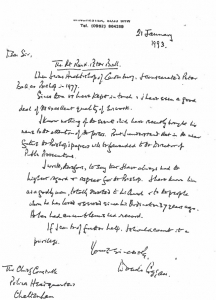 From the Archbishop of Canterbury (George Carey) there are two letters to the Chief Constable. The first is a handwritten composition in which he say he has the highest regard for Peter Ball who is a 'Godly man.'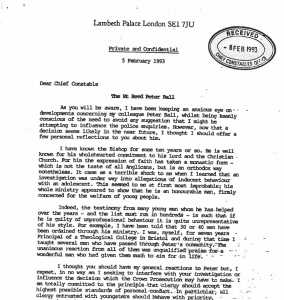 This second letter from Carey to the Chief Constable is simply extraordinary. It is for you to make up your own mind whether it might have influenced proceedings.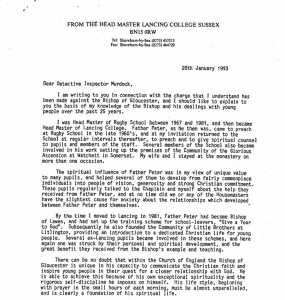 The Head of Lancing College at the time also wrote – James Woodhouse had previously been Master at Rugby School. It's odd how many headmasters of boys public schools, spread across the country, seem to know Ball. Its is another glowing tribute to Ball.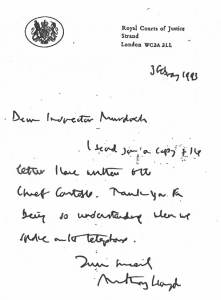 This hand written letter is from Rt Hon. Lord Justice Lloyd to Detective Inspector Murdoch of Gloucester Police. He also encloses a copy of the letter he has sent also sent to the Chief Constable, which features below.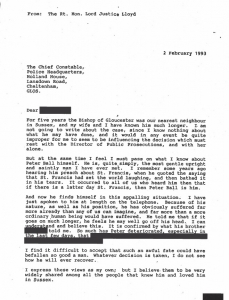 A letter to the Chief Constable of Gloucester from Lord Justice Lloyd who casts Peter Ball as the victim in these matters. Of course, as Lord Justice Lloyd states – 'it would in any event be improper for me to seem to be influencing the decision which musty rest with the Director of Public Prosecutions and her alone.' He is correct of course, so why write at all? What is the purpose of writing if not to influence matters?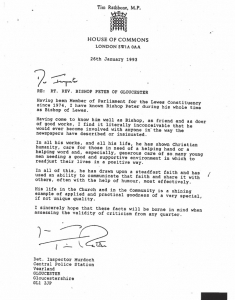 The former MP for Lewes Tim Rathbone also wrote glowingly of Bishop Peter Ball to Detective Inspector Murdoch.
All these letters have common ground – a non acceptance of the possibility that Ball could be a perpetrator – it was the wicked accusers. In his letter Rathbone says: 'In all his works, and all his life, he has shown Christian humanity, care for those in need of a helping hand or a helping word and, especially, generous care for so many young men needing a good supportive environment in which to readjust their lives in a positive way.' Clearly, Ball being an abuser was not possible to these unworldly men, because of Ball's 'Godliness.'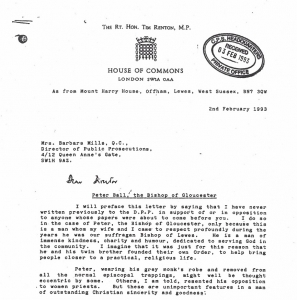 A letter from Rt Hon Tim Renton who at the time was MP for mid-Sussex in the heart of the Diocese of Chichester abuse scandal. Mr Renton has now been elevated to the Lords as Baron Renton. In his letter he says: 'Peter has suffered terribly over the last six weeks, as can only be expected for someone who has dedicated his whole adult life to helping and providing Christian guidance.' He continues: 'In all the years he was with us in Sussex, surrounded in his Order by young men, we never heard a breath of any suggestion of impropriety.
One could write a dissertation about these comments, but MN will leave it to you to reach your own conclusion. Attitudes like this remain a default in some parts of Westminster.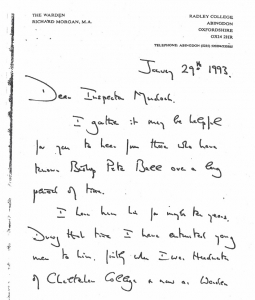 The final letter is from the former Warden of Radley College Richard Morgan, who informs Detective Inspector Murdoch that he has 'entrusted young men' to Peter Ball when he Morgan, was Head of Cheltenham College and Warden of Radley, 'at no time has there been any whisper of scandal. As soon as I heard of the accusations, I dismissed them in my mind as impossible'
It seems this man was another source of supply of young men for Ball.
Was this letter an attempt to influence whether Peter Ball was charged?
Why are these men writing if not to influence the decision whether Ball is charged? Thus far all the lobbyists are men, but then you might recall Baroness Butler Sloss, during her review into child abuse in the Diocese of Chichester which was commissioned by the Church, was in 2011 recorded informing a complainant she didn't want to 'give the press a Bishop.' The Bishop was Peter Ball. Here is the recording:
None of these individuals have a skerrick of coal face understanding of child protection / abuse in institutional settings. They should keep their own counsel and permit the police and the CPS do their job without interference and this absurd lobbying.
As far as Baroness Butler Sloss is concerned – the Church of England is going to feature large in IICSA. We hope Justice Goddard is suitably disconnected from the institution, and the inquiry lifts every stone to reveal what lives underneath.