Mandate Now has reviewed the Church of England's safeguarding policy document 'Protecting All God's Children' 4th Edition (2010) and its recently replaced Chapter 7 under the new heading – 'Responding to, assessing and managing safeguarding concerns or allegations against church officers'. The content is a thicket of inconsistent discretionary 'guidance' which carries with it the risk of confusion, mistake and non-compliance.
Mandate Now is a pressure group that leads the agenda for the introduction of law that requires staff who have responsibility for children, and vulnerable adults, in Regulated Activities[1] to report known and suspected abuse to the Local Authority. We have reviewed policies for other Regulated Activities and organisations including The Football Association,  Stoke Mandeville (Lampard Review), and the BBC (Dame Janet Smith Review).
The challenge presented to anyone tasked with delivering safeguarding in the Church of England is the sheer volume of its 'guidance', and that clear and readily comprehensible procedures (insofar as they exist at all) are hidden like needles in a haystack. It does little to establish who is responsible for doing what and when.
The General Synod was told in February that it has two difficult years of reckoning as it faces close scrutiny of its record of handling child abuse, with 3,300 reports of alleged sexual abuse in 2016 alone. The current child protection policy does not give much cause for hope that children are safe in the Church or that where incidents occur they will correctly and safely be dealt with by the responsible persons both within and outside of the Church.
The few clear policies and commitments that exist are scattered piecemeal throughout the document, and there are statements in different places on the same subject that contradict each other. Some of the 'statutory guidance' documents that the policy relies upon are out of date, hyperlinks are broken; the names of bodies such as Independent Safeguarding Authority are out of date. There is no clear overarching commitment to refer any child protection issues that may arise to a completely independent body outside of the Church. At various places it appears that the Church's Insurers, Ecclesiastical Insurance Group, may have had some involvement in formulating policy – which for obvious reasons of conflict of interest ought not to be allowed. It takes hours of reading to discern the flaws and yet the National Safeguarding Team promises yet more guidance is on the way.
If the document were rewritten deleting everything except for specific procedures to be followed by defined persons within the Church (including the necessary definitions to support those procedures, and all gathered into one place) it is likely the page count could be reduced by more than 80%,  and thus produce an infinitely more workable and thus safer, policy document. Any retained weaknesses would then become far more easily identifiable.
Below are some of the shortcomings we found when reviewing the policy that the Church of England has produced principally for dioceses and Diocesan Safeguarding Officers (DSO's):
Chapter 7 of 'All God's Children' titled 'managing allegations against church officers' has been replaced by 'responding to, assessing and managing concerns or allegations against church officers practice guidance (2017)'. Confusingly, both are available on the CofE website.
The document consists of unenforceable 'guidance' that dioceses 'must have regard to.' Having had regard to it, dioceses can use it in whole, in part, or not at all. It's nothing more than discretionary.
Clear procedures, insofar as they exist, are also discretionary. Little reliance can be placed on any part of the policy.
CofE suggests a child protection referral 'should' be made to the Local Authority Designated Officer ("LADO")/statutory authorities ("SA") 'if' the threshold of 'harm or significant harm' is met. To establish this threshold some form of investigation is required. But investigation is the function of the statutory agencies not the Church. Coincidentally the 'harm test' is used by Local Authorities and courts to establish compulsory intervention. Of necessity the threshold for referral used by CofE needs to be lower than that of the statutory agencies which have the investigatory powers to establish 'harm.' If suspicions on reasonable grounds are not referred, many cases, which if investigated might meet the harm test threshold, will never be reported.
'Statutory guidance' that underpins safeguarding in Regulated Activities is weak. The act of making a referral to the LADO / SA is entirely discretionary for those working in Regulated Activities. Under-reporting of concerns is a well researched occurrence and has contributed to the establishment of the Independent Inquiry into Child Sexual Abuse to which the church is giving evidence w/c 5/3/18.
The combination of the CofE using 'harm or significant harm' test and the home nations (excluding Northern Ireland) not being mandatory reporting jurisdictions, unlike 86% of Europe, means the Church operates 'conditional discretionary reporting of known or suspected abuse.' The Church has a long history of failing to report such concerns, with dire consequences for children involved.
The role of 'Core Groups' appears to be an exercise in 'mission creep'. Their interference in an incident is a real possibility for the reasons we state in our review. There is an absence of expertise and independence in the establishment of these 'scratch teams'.
The influence of the frequently mentioned, but technically independent Ecclesiastical Insurance Group, in Church child protection must be questioned. Paragraph 4.1(2) p.146 gives rise to cause for concern.
Some of the 'statutory guidance' referenced in the policy is out of date, superseded or defunct in a safety critical document that is meant to protect children in the Church.
The Independent Safeguarding Authority became the Disclosure & Barring Service (DBS) in 2012 when the modus operandi of DBS changed as a result of legislation. There is no sign in this document that these changes have been accounted for.
Insofar as clear procedures exist, this document succeeds in concealing them.
There are multiple broken hyperlinks which reveal a lack of attention to detail.
Above all, there is no clear overarching commitment to refer any child protection issues that may arise to a completely independent body outside of the Church. This is the most important entitlement that a child can have.
Users of the policies have to negotiate a blizzard of CofE 'guidance' documentation.  Its slipshod assembly is incompatible with a safety critical culture the church claims exists in the Regulated Activity. The church is gripped by the undemanding requirements of 'statutory guidance' which cannot and does not provide a credible foundation for functioning child protection in Regulated Activities. 'Statutory guidance' is just that, 'guidance' and it's discretionary. The church could deliver far more effective child protection if it was minded to, but there is no visible attempt to do so. The policy uses  great many words to deliver very little.
We have said in the review that we would like to see the church undertake to mandate staff to report known and suspected abuse on reasonable grounds, to the DSO and thereafter the LADO / children's services for independent assessment. However there is no reason to expect the C of E will be any more capable of reforming itself to achieve this than the Roman Catholic Church, whose complete inability to implement and enforce measures was clearly shown during the November/December hearings into abuse in the Roman Catholic Church. We have every reason to expect the failure of Regulated Activities to refer concerns to the Local Authority / statutory authorities will become a recurring theme in the public hearings across several strands of the Inquiry's investigations.
The remedy in each case is the same. If an institution is unwilling or unable to organise itself from within to implement effective safeguarding measures, then compulsion will have to be applied from without to achieve it via the introduction of well-designed Mandatory Reporting for Regulated Activities. Mandatory Reporting supports staff who have a concern. It also provides them with legal immunity, while failure to report carries criminal sanction. Such arrangements operate in the majority of countries on all four continents including 86% of European jurisdictions. We proposed draft MR legislation in our submission to the Government consultation announced on 28/10/14 but more than three years later, government has yet to provide the outcome.
It has taken the church years to reach this disordered safeguarding state. The National Safeguarding Team includes :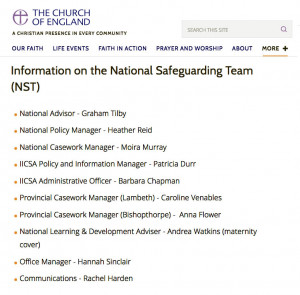 CofE safeguarding is under the stewardship of the Bishop of Bath and Wells Peter Hancock who has been in post since 26/1/16 but who has achieved little to effect any improvement. We wrote about an unfortunate development he feels unable to address in public :
Bishop of Bath + Wells Faces a Morton's Fork over MR. CofE Imagineers Attempt to Conceal 'U' Turn
Why is this concerning? Recently Mandate Now had a twitter exchange with the Rev Tiffer Robinson, a member of synod. He is under a mistaken belief that mandated reporting of known and suspected abuse exists in the church. You can read the exchanges here: 'CofE Beyond Confused with Safeguarding. Welby Allegedly Claimed #MR exists in the Church. (Broken link – read on)  
UPDATE : After the Archbishop of Canterbury appeared at IICSA and said both he and Archbishop Sentamu supported the introduction of Mandatory Reporting (11/7/19), we noticed the link to the tweets had been broken as a result of the Rev Robinson deleting the twitter exchange from his account. We retain some screenshots and here show the first and it's conclusion :
Start :

Conclusion :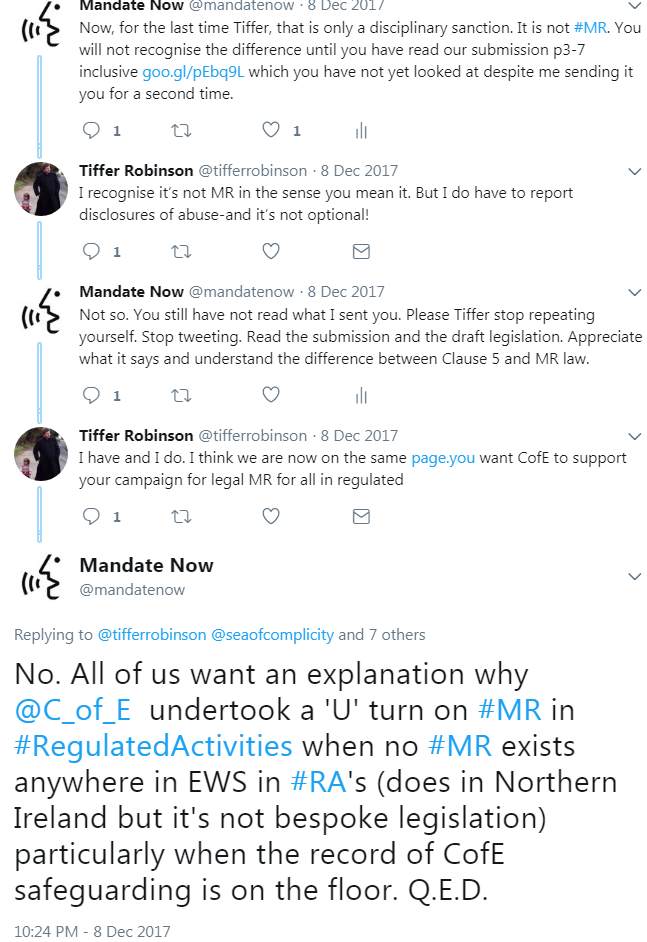 Had the Rev Robinson understood the safeguarding arrangements for his Regulated Activity instead of just believing what he is mistakenly told, he's Rector in four Suffolk parishes, he would never have made the claim. How many members of the clergy are operating under this falsity?
It begs the following questions :
From where did Archbishop Welby get this mistaken information?
On what occasion/s has he misinformed the clergy that CofE has mandated reporting?
Why has neither the National Safeguarding Team nor  safeguarding training corrected this misunderstanding?
No law exists that requires staff working in Regulated Activities to report known or suspected abuse. This was finally admitted by Government on 21/7/16 (last day of Parliament) when it published the consultation 'Reporting and Acting on Child Abuse and Neglect' :
 [1] Regulated Activities are defined in the Safeguarding Vulnerable Groups Act 2006 SCHEDULE 4  Part 1.  These include employment such as healthcare, sport, education, scouts, and faith groups.