It's panto season – is it ever not with Church of England Safeguarding ?
On the 14th July 2019, Bishop Peter Hancock featured on BBC r4 Sunday programme which reported on IICSA's final hearing into child abuse within the Anglican Church.
During the programme, which highlighted that Archbishops Welby and Sentamu both called for the introduction of statutory mandatory reporting Peter Hancock, the lead Bishop for safeguarding, in an 'off-air' exchange with the BBC journalist, said this:
Concerned by this incorrect statement, Mandate Now wrote to Bishop Hancock asking him for the evidence on which he grounded his assertion. It seems odd that in a programme in which two Archbishops were calling for statutory mandatory reporting, the lead Bishop for Safeguarding was saying 'we already have a form of MR.'
As you will read in the exchange of correspondence with Bishop Hancock, it's simply not possible for an institution to claim it has Mandatory Reporting. It's an assertion of gold medal safeguarding illiteracy as we explain in our reply. Furthermore in our review of the House of Bishops safeguarding 'guidance,' released shortly before the start of the Anglican Hearing, (Church of England Safeguarding is Dysfunctional and Can Have No Reliance Placed Upon It | A Review by Mandate Now 2 March 2018) we made clear that it's a wonder any safeguarding incident can escape the clutches of the Church of England and reach the independent statutory authorities.
Richard Scorer of Slater Gordon, who represented a significant number of IICSA Core Participants who were abused by Anglican clergy, said this in his opening statement :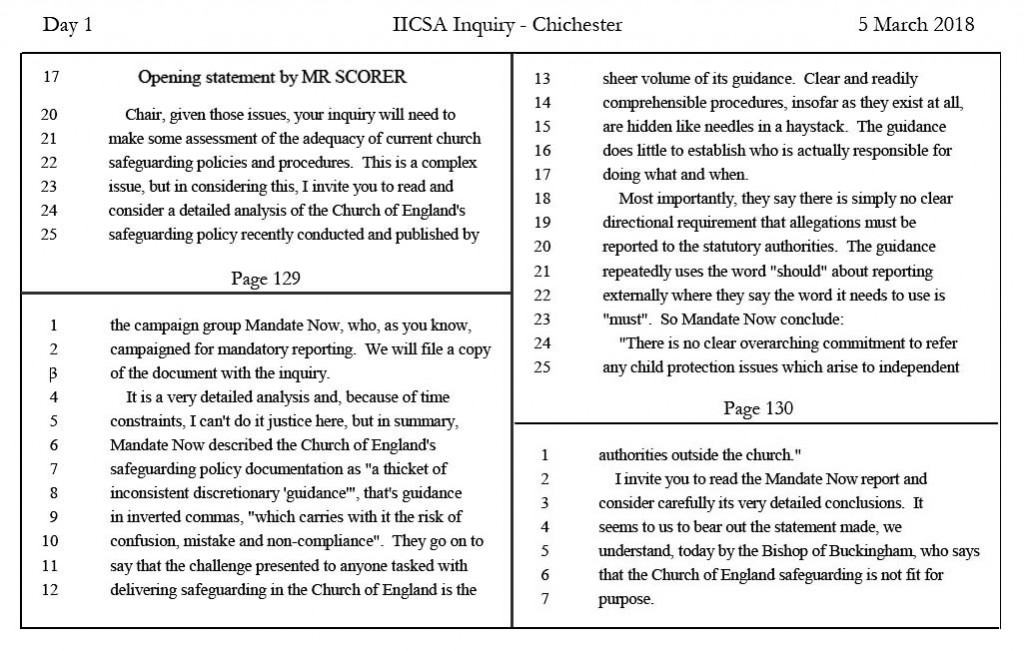 We wrote to Bishop Hancock on 18/7/19 shortly after broadcast, and received his reply on 25/10/19. Given the certainty of his assertion to the BBC reporter, it's surprising it took so long. But as he stated in his letter, he'd consulted the head of legal at Church House.
Here's our letter to Bishop Hancock of 11th December 2019.
The second paragraph of our letter states :
In keeping with the House of Bishops' safeguarding guidance, your reply does not evidence the existence of anything resembling MR.
Bishop Hancock's email response is interpolated into our letter.